STEVE "CRUSHER" CASEY
WORLD HEAVYWEIGHT WRESTLING CHAMPION
& CHAMPION OARSMAN FROM SNEEM, Co. KERRY, IRELAND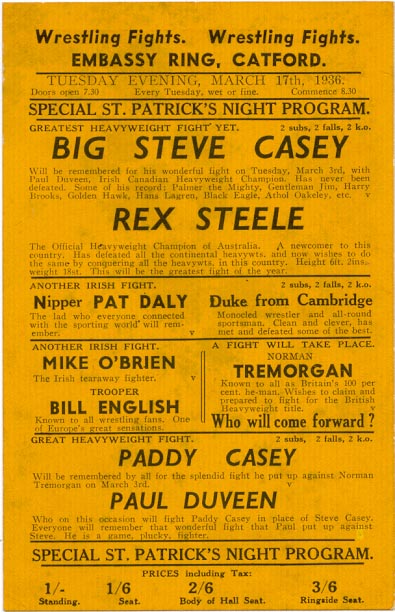 Original Wrestling Promo – March 17, 1936 Embassy Ring, Catford, London, England – also features brother Paddy Casey
Original Full Ticket – STEVE CASEY vs. MARVIN WESTENBERG – Municipal Stadium – Syracuse, NY – July 26, 1937
Boston Wrestling Program
Fenway Park – June 29,1937
Main Event: Ed Don George vs. Steve Crusher Casey, also Rube Wright vs. Danno O'Mahoney, George Dazzler Clark vs. Billy Bartush, Wee Willie Davis vs. Tor Johnson, Marvin Westenberg vs. Jack Marshall, Tom Hanley vs. Jim Wright, Harry Lewis vs. Hans Bauer, & Roy Dunn vs. Ricordo Cortez. Nice 4 pager from historic Fenway. Ya gotta love the Camels ad!!
Original Chicago Stadium Advertising Poster
Champion Steve "Crusher" Casey vs. Ed Don George
Former Champion Danno O'Mahoney vs. Everett Marshall
Friday, April 8, 1938
What a card!
Steve "Crusher" Casey in action against Charlie Straak at the 71sr Armory in NYC on 12/28/1936. Casey weight in at 230 lbs / Straak at 237. Steve won in 17:32 minutes in front of 4,000 fans! Steve has won his 3rd straight at the 71st after arriving in the USA several weeks ago.
The Casey Brothers; Jim, Steve and Tom signing contracts in Boston!
Jim "Thunderbolt" Casey with the Pacific Coast Heavyweight Championship Belt!
February 3, 1937 – The tough Irishman, Steve "Crusher" Casey is shown applying his special crush to his worthy opponent George "KO" Koverly in New York. Below: The gentler sex goes in for the ungentle art of grunts & groans. In Chattanooga, Tenn., Mildred Burke (on top) of Kansas City won the women's wrestling crown from Clara Mortensen of Glendale CA.